24th Oct. 2015
De Nieuwe Anita
Frederik Hendrikstraat 111 Amsterdam
entree only 7,50 euro
20:00-01:30
(showtime at 22:00 Hrs!)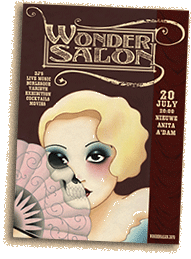 At Wonder Salon you will be on the juxtaposition of the cliche and the absurd:
oddball, insane, brilliant, brave, hysterically funny and kitsch...
In this edition:


Les Biftecs
Amsterdam soul groove funk roasted beef band,laying a groove that has roots in the styles of Booker T & the MG's,The Clash and the Doors...




Live: topless body painted GoGo dancer MiuMiu Lunatique
Paint by Mariska

Psychedelic projections by Charley
("Party like it's 1969!..."'


Retrolicious DJ:
Charley Retrolicious.info

Evening briefly summarized: great shows, awesome music, dancing our asses of! I am definately going back to "Wonder Salon". -MayPaj

Imagine yourself in the decor of one of Tim Burton's classic movies, all dressed up and sipping a cocktail, special beer or spirits. while listening to some of the best atmospheric party tunes or being entertained by truly inspiring and divers artists. If this sounds like your cup of tea, Wonder Salon is just the party for you! Wonder Salon tries to evoke otherworldliness by blending historical and contemporary styles. Be prepared to laugh, be amazed and perhaps sometimes slightly shocked at the performances of a (burlesque) dancer, singer, musicians, magician or a freak show artist.
Revel in the atmosphere with other partygoers and bring your dancing shoes, as our dj's will play the best tunes for you to have a good time to. From ska to (electro)swing, cabaret and burlesque beats to soul and from exotica to gypsy music.
Wonder Salon invites you to create a truly unique atmosphere with us by dressing up for the night in Steam Punk style and the likes. Let yourself be inspired by; cabaret, freak show, magic, fairytales, burlesque, Commedia dell'arte, medieval, old-school Gothic Horror, curiosity cabinet, avant-garde, Jules Verne, H.G. Wells, Federico Fellini, Carnivale, time travel, wild west or the Mad Hatter.

*'Burtonesque' refers to all 'Tim Burton movies' and the inspirational sources for those movies... Think Edward Scissorhands, Big Fish, Alice in Wonderland, PeeWee's Playhouse, Frankenweenie, The Nightmare Before Christmas, Sweeney Todd, Beetlejuice, Ed Wood, Dark Shadows etcetera.